So, this guy drives people crazy on craigslist by responding to their ads :OD
DoNotEvenReply.com
Original ad:
I need the help of a drywall expert to repair a large hole in our hallway wall. The hole is about three feet wide. You will need to bring all materials needed, but I will cover the cost. I can send pictures of the hole if requested.
Please respond with availability and a reasonable rate.
And so it begins........
------------------
From Me to *************@*********.org
Hey,
I saw your ad and will be able to help you out. The best thing to do for dry wall holes is to tape over the entire hole with strips of duct tape, and then paint over the duct tape. If you have wallpaper, I could just put wallpaper over the hole. That would be even easier. After the repair, nobody should lean up on the wall or it will probably tear again. I suggest hanging a picture over the hole. I have some old framed pictures of Bon Jovi that I could bring and install over the hole.
I am available all week, and my rate is $25/hr. When can I stop by?
-Dan
--------------------------------------
From Brittany ********* to Me
Hi Dan! Thanks for the quick response. Sounds good! I will forward this e-mail to my husband and he'll get back to you ASAP.
Thanks!
Brit
-------------------------------------
From Bryan ********* to Me
Dan,
My wife sent me your email, but I don't think she actually read/understood what you wrote. If you are serious, then we don't need your help. I hope that isn't how you actually repair things. Regardless, I will tell my wife to actually read the emails before sending them to me.
Regards,
Bryan
---------------------------------
From Me to Bryan *********
Good afternoon Brian,
Your wife doesn't sound too smart. I was going to recommend Hooked on Phonics, but she seems to be capable of writing. I think she just does not have the ability to comprehend what she is reading. I have a cousin who is "slow", and there is this really good remedial school in Philly that he went to. They offer some classes that help with reading comprehension. If you want, I can look up the school and send the information to your wife.
- Dan
-----------------------------------
From Bryan ********* to Me
Heh heh, that might be just what she needs...
-----------------------------------
From Me to Bryan **********
CC: Brittany *********

Great! I'm forwarding our conversation to your wife, along with the school information.
The name of the school is "Smithbridge School for Special People," and you can call them at (***)-***-2195.
-----------------------------------
From Bryan ********* to Me
Oh boy...please don't...
-----------------------------------
From Brittany ********* to Me
What a jerk you are. Excuse me for being busy and quickly browsing through your letter. Go to hell!
-----------------------------------
From Me to Brittany *********
Brit, you should really consider this school. It might not seem like it, but they actually can help you. It did wonders for my cousin. He used to just stay at home with his aunt all day, but now he has a great job at McDonalds. Please, just give them a call.
-Dan
=======================================
Original ad:
Garage sale on Saturday April 17th from 10 am to 4 pm. Lots of clothes, furniture, electronics, and more. The address is 341 ********* Drive. Email me if you need directions.
--------
Now before you think this woman doesn't deserve it, she spammed this ad everywhere, every day. I was sick of seeing it.
----------------
From Me to ***********@**********.org:

Hello,
I live a few blocks away from you and couldn't help but notice you are having a garage sale this Saturday. I am going to have to kindly ask you to change the date of your garage sale. I am having my annual world class garage sale on that day, and I do not want you to take away any of the customers that would be coming to my garage sale.
If you could hold your garage sale some time during May or June, that would be great.
Thanks,
Mike
----------------
From Karen ******** to Me:
I'm not changing the date. There is plenty of room for both of our garage sales.
----------------
From Me to Karen *******:

Karen,
There is not enough room for both of our garage sales. As I said earlier, my garage sale is a "world class" event. It draws in garage sale connoisseurs from all over the region. I have already booked a bartender and a string quartet for my sale on Saturday. My garage sale is a classy experience, and I do not want that experience to be ruined for customers who mistake your garage sale for mine. Now I'm not saying your garage sale isn't going to be nice, but I highly doubt you have a bartender and string quartet at your sale.

Please take down all of the ads in the neighborhood for your sale to avoid any confusion for my customers.
Mike
-------------
From Karen ******** to Me:
How rude of you to even make this request. I have the right to have a garage sale when ever I want to. What gives you the nerve to think you can tell me what to do?
------------
From Me to Karen *******:
Karen,
You are correct, you do have the right to do whatever you want. I realize that I cannot change your mind about this.

I can, however, put up this ad all over the neighborhood. Let me know what you think of it: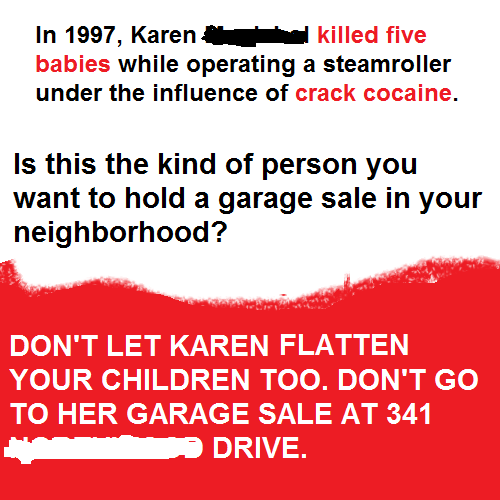 Best,
Mike
------------
From Karen ******** to Me:
What the hell is the matter with you? I swear if I see any of those ads in the neighborhood I will tear them down and report you. Do not speak to me again about this. You have been warned.
-----------
From Me to Karen *******:
Karen,
I'm willing to cut you a deal and get you a spot on the guest list for my world class garage sale if you cancel yours.
Mike
----------
From Karen ******* to Me:
Screw you and screw your world class garage sale, you world class prick.